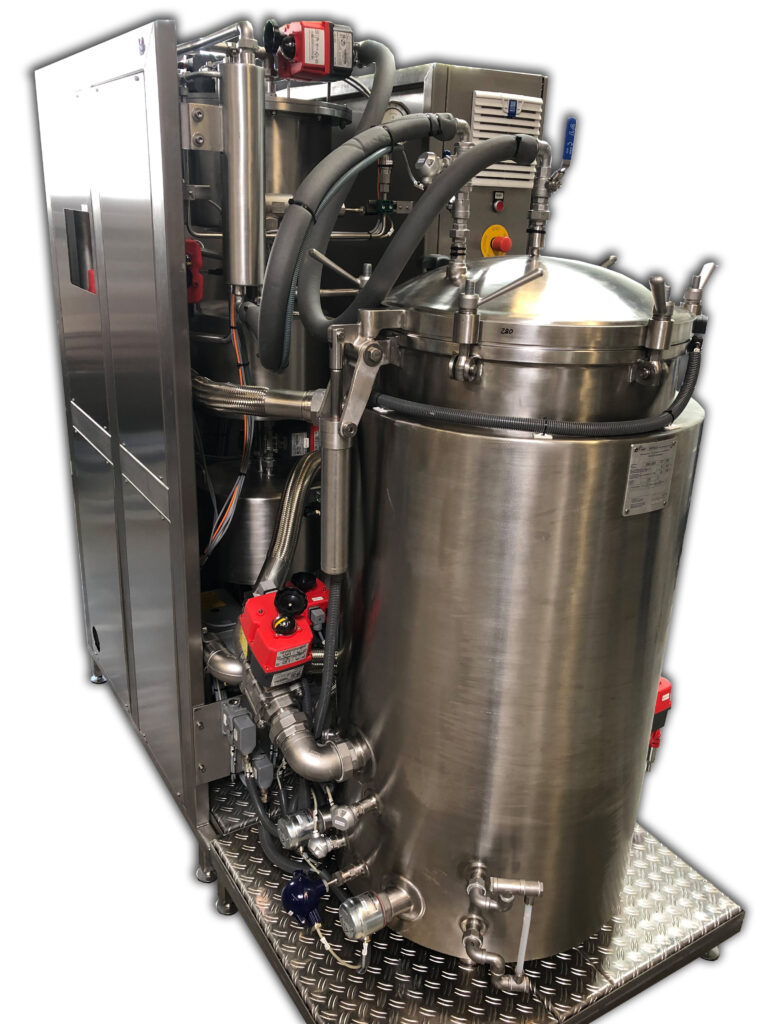 Bone Fat Extraction Unit 500mm
For chemical-thermal degreasing of bone tissue with dichloromethane (methylene chloride) in a closed low-temperature vapor degreasing aerosol system at 40 °C. Fields of application: Anatomy and preparation. Degreasing chamber diameter: 500 mm. Compact system for odorless bone degreasing. Closed system with exhaust of the cleaned exhaust gases
into the atmosphere.
Type: MA-1370
Description
Compact unit for odourless bone fat extraction with Solvent recycling And a Compact system for odorless bone degreasing. Closed system with exhaust of the cleaned exhaust gases into the atmosphere.
Design
Sturdy stainless steel frame construction complete with integrated
stainless steel safety trough and standing grate
Hermetically sealed tank for approx. 20 liters of degreasing mediumcontent.
With discharge and filling spouts, suction system,
sample basket. 500 AD x 750(H) mm. Heated grease drain nozzle.
Process chamber lid with integrated pyramid drip shower and
Viton press seal. Double-walled, cooled process chamber lid
with fully automatic opening for easy handling during opening and
closing.
discharge of filtered gases to atmosphere
integrated blower ensures gentle drying of the bone preparations at
40 °C before the degreasing phase
automatic control of the functions: Drying, degreasing,
distillation, etc. by electronic control with touchscreen
display. All functions also manually programmable!
integrated steam return lock
integrated remote maintenance module based on "VPN tunnel
Components
Stainless steel bone degreasing chamber.
Internal dimensions, 500(diam.) x 1200(H) mm.
Double jacket for indirect heating by means of a heat transfer
medium (water or glycerine).
Heating 6,0 KW total heating power.
Chamber volume degreasing medium: approx. 20 liters.
A Heated drain port for bone grease attached
Special plastic press seal for completely hermetic closure of the
chamber during the degreasing process.
The lid is provided with a counterbalance so that
opening and closing can be easily performed by any person.
by any person. Lid in double-walled design with cooling.
Bottom of lid with drip shower for wetting the bone samples to be
samples to be degreased (suspended or lying on the grid insert).
Inner container Incl. a lid protection circuit with
magnetic interlock (without the release by the safety
switch on the vessel lid, the unit cannot be put into operation!
b)Recovery plant for degreasing agent incl. condenser
and storage tank
c)Programmable bone drying plant at approx. 40 °C
d)Cold water generator for lid cooling.
With circulating pump for closed circuit.
Infinitely variable temperature control from +3 to +21 °C.
Energy consumption: 550W; current consumption: 2.6 A; refrigerant:
R 134 a; stepless temperature control from +3 to +21 °C.
Connection: 230V / 50Hz (power supply through control cabinet).
Panelling and fittings
The entire chamber is surrounded with 40 mm thermal insulation.
Outer shell made of stainless-steel sheet, ground. Splash-proof constru
Adjustable feet for level, leveled placement and installation.
Direct access to all fittings, heating elements and other
components.
Electric components
Thermo-fuse (80°C) against overheating
electronic thermo-sensors, type PT 100 chamber temperature
Electronic thermo-sensors, type PT 100 Heat transfer medium
Inserts for bone specimens
Process basket with suspension grid
Fittings
Filler neck for the heat transfer medium (1/2″)
Drain valves
Filling valves / drain valves / overflow valves
Connections for automatic filling
Sight glass indicator for the heat transfer medium (water)
Stainless steel control cabinet
with color touch screen display for fully electronic control of the
bone extraction system
dust- and splash-proof design with door seal
electronic temperature controller with digital display
main switch
Functions
Digital display of: Heat transfer fluid temperature, cooling circuit
Temperature, chamber temperature.
Monitoring of: Temperature heat transfer medium,
Temperature degreasing chamber,
function radiator
Programs
Drying (drying of the bones by integrated fan at approx.
40°C before degreasing).
Degreasing
Back distillation (for clean separation of bone fat, solvent, and
process water).
Ventilation of the vessel before opening the lid.
Technical Data
Operating voltage: 3 Ph / N / PE / 400 V / 50 Hz
Connected load: 10 KW
Working temperature: +40 °C to + 55 °C
Material: stainless steel EN / DIN 1.4571 for all
product touched parts
Dimensions
Overall external dimensions: 2000(W) x 1100(D) x 2200(H)mm
Usable space dimensions: 480 (diam.) x 750(H)mm
Basket dimensions / hanging depth: 480 (AD) x 750(H)mm
Other usable space volumes / basket versions, inserts, sieves, and
special holders on request!
Weight: approx. 860kg
The customer must connect or provide the equipment
Power current 3 x 400 V / 50 Hz / 25 A
Inlet cold water: 1/2″
drain cooling water: 1/2″
Waste water spigot DN 32
exhaust air spigot DN 65
Electrical main connection (power current)
We recommend a floor exhaust with branch for a flexible
exhaust air hose ID= 60mm (approx.500m³ exhaust air volume)
The exhaust air volume of the unit can be max.800m³/h, however, it
is throttled in the factory according to the on-site throttled.
Country of Origin
Manufactured in Germany by MEDIS MT GmbH according to ISO 9001 and the valid EN standards as well as occupational safety and
safety regulations.